Reading Time:
3
minutes
Hackathon: Hacking + Marathon.
Event in which computer programmers and others involved in software development, including graphic designers, interface designers, project managers, and others, collaborate intensively on software projects. The goal is to create usable and functioning software or hardware products by the end of the event.

from: https://en.wikipedia.org/wiki/Hackathon
In the first half of July, here in iSolutions we organized our first Hackathon.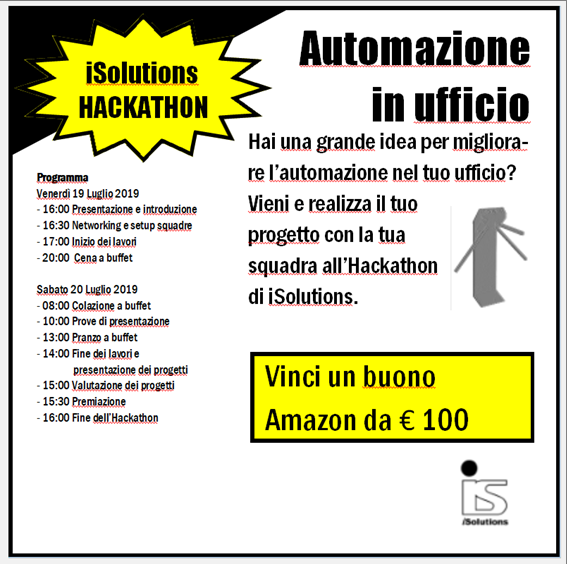 The topic of this Hackathon was "Office Automation", not in the sense of "creating the new version of Microsoft® Word®" 🙂 but creating solutions to automate and improve the "boring part" of working in the office.
iSolutions offered pizza and drinks for all the participants, plus a give-away of a 100 €-value Amazon coupon for each member of the winning team. Furthermore, iSolutions also fulfilled all teams' hardware requests.
The event took place between July the 19th and July the 20th; every team had 24 hours of time to provide a working version of their projects.
The Teams
Team "ISTag"
Project Name: iSTag.
Purpose: manage stocks of "consumables" needed in the office through a mobile app with a QR Code scanner.
Team "WC.NET"
Project Name: iSLibero.
Purpose: Device that detects the presence of people in bathrooms and automatically show the status outside.
Team "Z.I.O."
Project name: Z.I.O.
Purpose: integration between iSolutions Intranet, Outlook calendars and attendance system, to keep everything automatically updated.
Team "I+mma"
Project name: ThisISMe.
Purpose: Work gamification. Acquire superpowers when you accomplish goals, attend training courses, etc.
Team 79
Project name: 2B Busy Bathroom.
Purpose: System that allows bathroom reservation for all the guys in iSolutions.
Let's go!
Let's start with a brief introduction of each project.
And now, it's time to "make":
Team iSTag at work
It's getting late, but when you have fun, time flies…
It's been a looong night. Time to rest a little bit…
These projects were not part of the Hackathon, but they have been really appreciated by all the guys:
Conclusions
This Hackathon has been a great way for creating value and promote the spirit of collaboration between people, while having a lot of fun.
Every team was fully committed to their projects, giving their 100% to accomplish the goals; that's why, even if we eventually had to choose a winner, we can say that everybody won!
Do you want to know the inner details of each project and discover who won the contest?
Stay tuned!